So I thought I might try to make some things non-flocked. I suppose, to get myself accustomed to the idea of having an open blog again. I've been hiding behind locks for a long time, and not everything needs to be hidden.
I made a new friend. But I forgot to ask for their name. Oops. There was much bonding over awesome bands, and I believe I have infected a Zigzo fan with test-No. and Lion Heads. I win! One person at a time! I can't even remember what we started talking to each other about, now. We wanted to trade, and then suddenly it was like, "... Wow, you like Zigzo?!" and, "I have these videos..." and "my christmas present to you will be the DVD rip! I UNDERSTAND YOUR PAIN I'VE WANTED IT FOR A LONG TIME TOO. Let's cry together on Boxing Day."
I'm quite impressed. So I'm receiving some clips from her that I haven't seen before, and so far, none have finished but I've watched the incomplete bits. ... I couldn't help but screencap the flash frames from the special Tonight, I Will Fall message video. (Once I get them down completely, they're going up, yes. But I still can't find the Walk PV. Someone else might have, though, and even in .rm format, it's better than nothing. I would rather like to see Den mounting that propeller for euphemism lulz and Ryo's >O singing face.)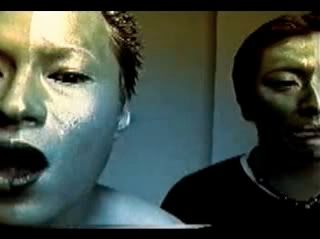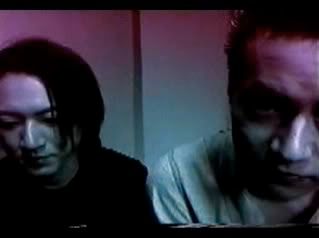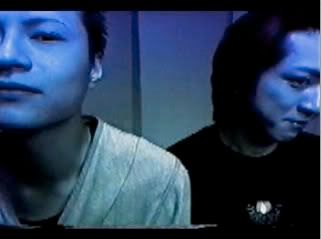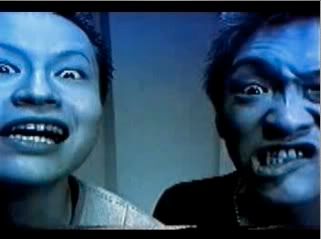 How can you not love their animated little faces? ... Even if they strike fear into your hearts? With that fear comes a smidge of love that will grow like... like heartworm.
I also may go to Tulsa in August to assist Kashheart with her J-Rock room. Maybe. I don't really know where I'll be, yet, though the search for jobs will begin again on Monday. Maybe I'm just not looking at the right time? I don't know. The pickings seem slim. On the bright side, I found both my CV files and my LJ profile files, so I didn't lose everything after all. I'll modify it and whack it back up when my brain hasn't been assaulted by too much RP. We had a nice flow, though. I was happy to have my groove back even if my writing wasn't at its best by the time Adium and my wireless had frustrated me to no end.
Oh, and also. There is nothing more romantic than serenading someone with this song. "DRIVING ALL NIGHT! OH YEAH! YES, I'M HYSTERIC BOY!" ... I think that was one of the more epic moments in my Ryo's history thus far.
That is all!
ETA:
I lied, that's not all. I forgot to add; seriously? Am I the only one who looks at Ryo and Tetsu and goes, "BRUHS"... who then looks at Den and Sakura and goes, "BRUHS"?! Their facial features are very similar.
Mood:
amused
Music: HYSTERIC : BY-SEXUAL