Ughhh.
Is it the Aquarian in me that goes, "I'm not busy enough. Let's make myself busy even with things that I use for recreation so I end up procrastinating on the things I use to procrastinate!"? I hardly ever get anything done, or finished. So many things end up in limbo for me to remember months later and go, "... oh yeah, about that." I don't need any more projects, and I should be discouraged at every available opportunity from piling more onto my plate.
... I even procrastinated on this entry, which I started last night. I haven't read my flist, because I predict more comments, and I'll use them for procrastinating or I'll procrastinate on them auuugh!
I am, however, allowing myself to get distracted by
the ending session in this
and Ryo trying to be badass (I'm sorry, a "bad friend") and looking lost quite a bit of the time. I think he spent himself too early with all that growl-moaning. (I say I feel bad about laughing at him, but I don't.) They had it up before, but it was a shorter clip than this one.
While I'm at it, though.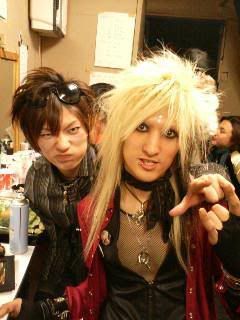 So and Charge. They must be ass babies. Charge looks like the freaky result of that one-night-stand between Noisy and Himawari that no one ever speaks of, and So... So is "so" Den and Ryo's. That's kind of mean, though, if his mother is making him work as his roadie. Child labour! I would hope the payoff is that mama teaches him everything he needs to know about smacking that tiny bass.
GOD I AM PROCRASTINATING ON PROCRASTINATING ON PROCRASTINATING NOW. ENOUGH.
So, "fun" things that I need to do.
01. Update OF... everything. Layout, rules, claiming info and "exist trace are a special exception because I goofed!" in particular.
02.
Reply to comments, then wake up the boys to wreak havoc everywhere else and try to push Saks out of mopeytown.
I should poke LJ Saks while I'm at it, see if I can at least make him update.
03. Update my albums lists.
04. MOAR ICONS. There is much wtfery to be iconed lately.
05. Oh yeah, update Mission.
06. Tweak and fix layouts.
06. ... Clean? (HAHAHA, let's not get into the unfun stuff) Well, tidy up my HD, anyway. I am so disorganised.
We'll see how many of these I do by the end of the day. Chop-chop, Tash. As a reward, I'll let myself watch Burst City and probably be completely confused by a lack of subtitles. PUNK, YEAH!?
ETA:
I HATE YOU GUYS. SERIOUSLY.
Mood:

ADD?!
Music: City Kids : Motorhead