That box has gone walkabout. Post office don't have it, we don't have it, it's somewhere between here and there. If it's not on its way back to Indiana to be reshipped, I dunno where it is. THIS MAKES ME VERY SAD. I checked the address I gave Kash, it was right, so it's not our fault. Unless SMJ misprinted it but I doubt that since the labels seem to be printed direct. West Slope Post Office is fail.
OF parties are fun, because they drive me to drink. Otherwise, I wouldn't be able to keep up. However, OF business is not so fun so I don't want to go into that right now. Ugh. I am not feeling diplomatic nor have I been in a good mood today, but I've managed to avoid snapping at anyone. But some stuff has to be talked out, I'm sick of this.
Oh, and... I've been stalking the Attitude blog. It is so surreal to see old dudes writing entries and other old dudes replying to them. OMG THEY'RE COPYING US WTF except they're for real. WHY. WHY. IT IS FREAKY. But the more I hear Dynamite Tommy talk, the more I want him to take on Yoshiki in a celebrity deathmatch. Seriously. He has no common sense, he'd go for it. (Also apparently Attitude makes no sense but is legal, he promises.)
You know you'd pay for that on pay TV.
... OH AND SO APPARENTLY Jack in the Box is being broadcast on TV on the 29th in Japan. Someone better record THE WHOLE THING since they're airing THE WHOLE THING, and then again on the 7th of March. I swear to god, if someone grabs it and cuts out everything but the "major" acts, I'm going to be pissed. More pissed than if it never surfaces at all.
However, speaking of... the family... I came to a startling conclusion. My Little Pony is so responsible for my love of big, bright, colourful hair on androgynous entities. I had to pretend half of them were boys just to have a reason for the babies! But now I realise I was gravely mistaken; it was cloning.
Barbie performing in space is also responsible.
And Rainbow Brite. I blame Ryo entirely on Starlite. And Den on Twink. Even if the crooked rainbow Starlite rides on is closer to the truth because of Den's wonky witch nose.
... And seahorse Smurfs and their male pregnancy (as
putti_plush
says, pot bellied) did not help at all.
I should explore this more thoroughly. I believe it has a lot to answer for. I was watching Lady Lovely Locks before I could talk and I tell you what, those boys could give her a run for her money in the Lovely Locks department!
The only other thing I really have to add is that I have been staring at the many facets of Reds' face for way too long. No, seriously. He has as many poses as Mana.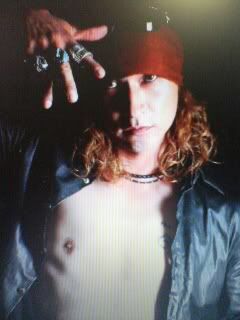 And that is one of his more original ones.
What the hell is wrong with me? I'm starting to like him! ... This always happens with people I end up RPing for shits and giggles. And he is going to be... epic.
And an Axl Rose and Stevie Wonder fanboy.
Rambling complete. GOODNIGHT.
Mood:
irritated
Music: Isn't She Lovely : Stevie Wonder